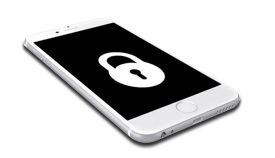 Let's figure out what's the meaning of 'Unlocked iPhone' first.
Generally, an unlocked iPhone means SIM-Free that it is not associated with any particular carrier and can hence connect to any carrier. Locked iPhones are stuck with a carrier, iPhones bought through a carrier will be locked for the duration of the contract. If you bought a contracted iPhone through a carrier, the phone will be locked until the contract is over and paid in full. Therefore, unlocked iPhones will fetch more money when sold. That's why it's important to know whether the iPhone you're buying is unlocked or not.
Here are the methods to check if your iPhone is unlocked or not:
Check via Settings
For this method, you'll need to have the iPhone is powered on and unlocked (the other kind-enter the four or six digits code to access the phone if needed). To check your device's unlock status:
-Open the Settings on the iPhone.
-Select Cellular.
-Tap Cellular Data Options.
If you see Cellular Data Network as an option, your iPhone is probably unlocked. If you don't see it, your iPhone is probably locked.

However, there are instances in which this method isn't accurate. If you're buying a used phone, you should definitely use one of the other methods to confirm before making the purchase.
Check with the SIM card
This method requires you have two SIM cards from different carriers. If you don't have two SIM cards, you could borrow one from your friend.
-Remove the current SIM card and place into another SIM card of a different carrier.
-Then, try to make a call to any valid number.
-If you get an error message that the call cannot be completed, then your iPhone is locked. If you're able to connect and make the call, then your iPhone is definitely unlocked.
Check with an Online Tool
There are quite a few online tools that can use the IMEI code to help you check if your phone is unlocked, but most of them need to be charged, the fee is from $0.99 to $2.99.
You can find the IMEI code as the following methods:
A. On the box of the phone, or on the sim card tray of the phone ;

B. Press *#06# on your Keypad dialing, then the IMEI Code will appear.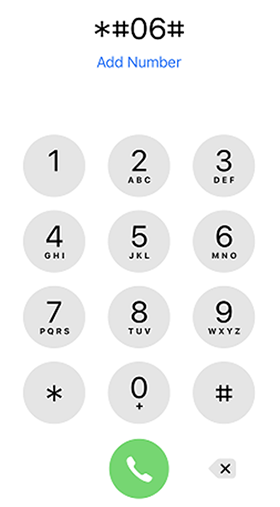 C. Settings→General→About→IMEI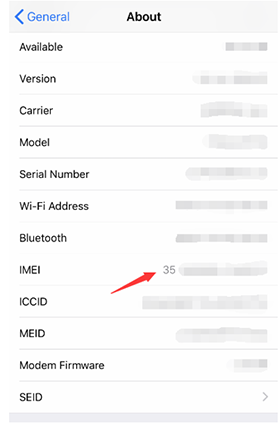 There's another kind of lock -- Activation Lock, also called iCloud Lock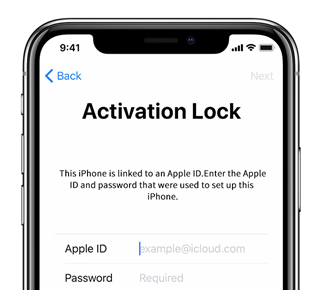 If a used phone is Activation Locked, it is probably a lost phone or stolen phone, it's recommended to confirm its status before purchase a used phone.
The disadvantage of an Activation locked phone is that without the Apple ID and passcode used to originally set up the iPhone, you will not be able to activate it. You will not be able to complete the setup process. You will have an unusable iPhone. You cannot use it fully because you do not have the needed credentials.