With macroeconomic headwinds continuing to impact demand, Indonesia's smartphone shipments declined 10% YoY in Q2 2023, according to Counterpoint's Monthly Indonesia Smartphone Tracker. The increase in shopping activity during the Eid al-Fitr festivities in April was also lower than last year. Promotions such as price discounts, bundled offers and installment and trade-in schemes failed to have the desired impact on sales. Consumers' buying interest shifted to accommodating the increased price of commodities like fuel, and household and personal products, along with services availed during the festival season, such as travel.
Indonesia Smartphone Shipments Market Share by OEM, Q2 2022 vs Q2 2023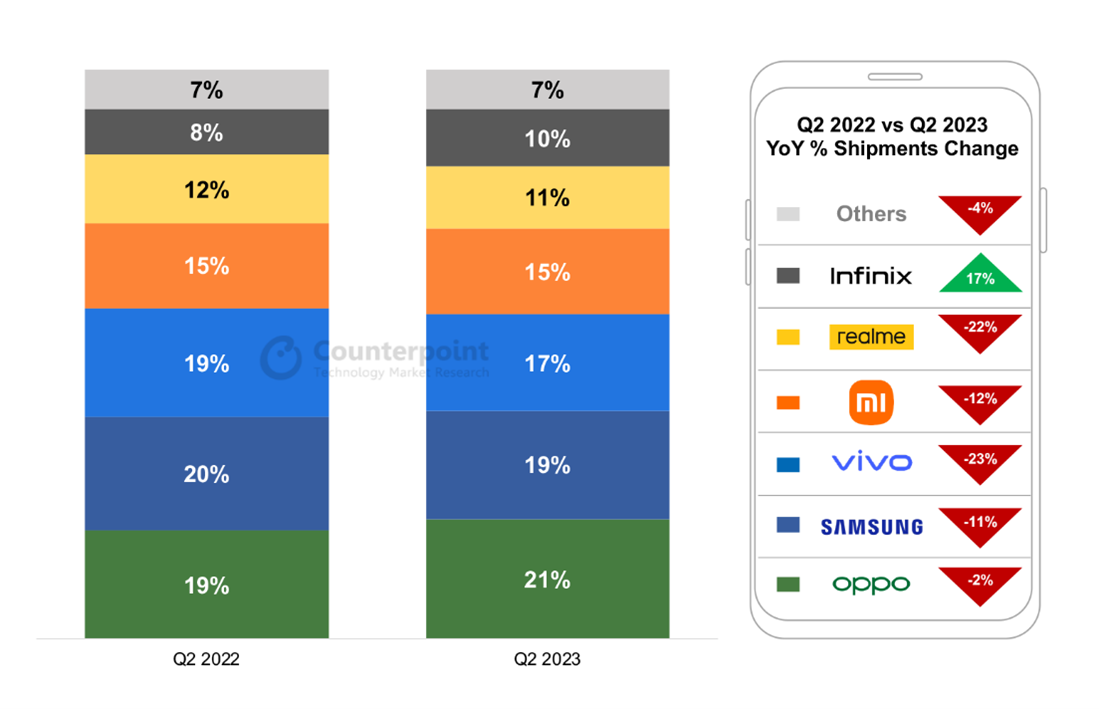 OPPO recaptured the top spot in the market in Q2 2023 with a 21% share, largely supported by its low-end models in the A17 series. The brand continued its aggressive marketing campaign and the models released in the previous quarter, such as the Reno8 T series and Find N2 Flip, had a spillover effect on its visibility in the market. The Galaxy A04 series made a significant contribution to Samsung's volumes, restricting the brand's shipment share decline to just 1% point.
Among top OEMs, only Infinix saw an increase in its shipments, at 17% YoY. The brand focused on the <$200 price band, offering better specifications in its models. Besides, Infinix was aggressive with its marketing activities to increase awareness and visibility for the brand. Its newly launched products, such as the Note 30 series, Hot 30 series and the Smart 7 series, contributed significant volumes to the brand's overall shipments.
Xiaomi's shipment decline significantly softened to 12% YoY in Q2 2023 from 47% YoY in Q2 2022. Recent initiatives indicated that Xiaomi had worked on strengthening its supply and distribution. The OEM made strong marketing moves during the quarter, such as new product launches and rejigging of discount schemes. Xiaomi sub-brand Redmi's performance was driven by its newly launched models, especially the Redmi A2 series and Redmi Note 12 series.
5G smartphone shipments in the <$400 price band increased 11% YoY in Q2. Key OEMs in this segment included Samsung with its Galaxy A14 5G, A23 5G and A34 5G series and Xiaomi with its Redmi Note 12 series. Newcomer iQOO Z7 5G series also joined this segment.